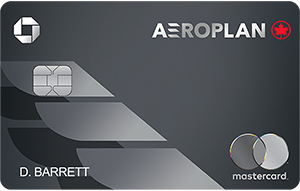 The Aeroplan® Credit Card from Chase is relatively new card in for the U.S. market and marked the Canadian airline's return into the space after their TD Aeroplan cards were discontinued several years prior. The card brings forth some really good earning opportunities, elite status opportunities and much more. And even though it's a Canadian airline it shouldn't be ignored as Air Canada is Star Alliance partner and in total they have nearly 50 different airline partners you can redeem points on.
The review of the Aeroplan Credit Card review is broken down into the following sections:
Overview
The Aeroplan® Credit Card is a card targeted towards U.S. travellers who love to travel with Air Canada or any of their airline partners including United. From providing free checked baggage to elite status and more this card is more than just a card for flying on Air Canada. It is a points & miles enthusiasts gateway card to many unique airline experiences around the globe.

Costs & Sign up Features
The Aeroplan® Credit Card has an annual fee of $95. This is a very respectable and worthwhile fee to pay considering what the card offers in terms of benefits and points earning.
Right now the Aeroplan Credit Card is is offering a welcome bonus of up to 100,000 Aeroplan points. The bonus is awarded as 75,000 points after you spend $4,000 on purchases in the first 3 months your account is open. Plus, 25,000 points after you spend $20,000 on purchases in the first 12 months.

Earning
The card earns Aeroplan points and earns those points as follows
3 Points per dollar spent on Air Canada Purchases
3 Points per dollar spent on grocery and dining purchases including take out/delivery
1 Point per dollar spent on all other eligible purchases

The card also offers 500 bonus points for every $2,000 you spend in a calendar month (up to 1,500 points per month)
Point Valuation Chart
Spending Category
Points earned per dollar spent
Effective Rate of return
(Aeroplan Reward flights)
Air Canada
3
3.3%* to 15+%
Gas, grocery, dining, travel
3
3.3%* to 15+%
All other spending
1
1.1%* to 5.5+%
* This is a very low minimum valuation. In most cases you should be able to easily pull more value than this especially if you redeem for business class or first class flights.
Redeeming
This is where the strength of the Air Canada Aeroplan program comes through and makes the Aeroplan® Credit Card shine. Aeroplan offers numerous redemption options but being a frequent flyer program the primary redemption option is reward flights on Air Canada and Aeroplan partner airlines. Aeroplan has nearly 50 partner airlines that you can redeem your points on. Overall you can redeem for travel to thousands of destinations Worldwide which is one of the reasons Aeroplan is so popular.
The new Aeroplan program has done away with their standard award charts (Classic Flights) that were the norm with the program since its inception in the 1980s. That being said, for travel on Air Canada, they do provide a range of points you could expect to redeem for flights on Air Canada with the claim that approximately 80% of redemptions will fall in that range but 20% could end up being less or more than what is published. Essentially what Air Canada has done is made the old Market Fare awards (any available seat at any time for a dynamic range of points) as their standard redemption model now for Air Canada flights. Flights on partner airlines will still follow a fixed price reward chart model. You can see all the redemption values in this PDF here.

What hasn't changed in the Aeroplan program is the ability to redeem for Economy, Premium Economy, Business and First Class flights. With the latter three tending to provide outsized value when you compare to any other loyalty program in the market. Speaking of premium flights, just in case you didn't know you can redeem Aeroplan points to fly in Etihad's ultra luxurious Apartment first class seats.
Preferred Award Pricing
And the great news with the Air Canada card is that you receive preferred award pricing when you redeem points for flights. This discount varies by route, date, time etc. but we have seen it in the 10 to 30% range. The discount gets slightly bigger if you have Air Canada elite status but that only adds a few percentage points to the overall discount - the biggest portion does come from having the credit card.
No Carrier Surcharges
On top of all this the new Aeroplan program no longer has to those dreaded carrier surcharges that could run into hundreds and sometimes thousands of dollars. While the surcharges have been done away on all airlines Aeroplan does charge a reasonable $39 fee for booking flights on partner airlines. The removal of the surcharges does however translate into an average higher cost in points for a lot of the redemption options albeit in many of our searches the increase in points is much less than what you used to have to pay for those surcharges.
We didn't want to make this review go on forever so we have kept the redemption section to a very top level description however it you want to learn more about redeeming for flights with the Aeroplan program we recommend reading the following articles:
Finally you are also able to redeem Aeroplan points for non-flight rewards including hotels, car rentals, Air Canada Vacations packages, gift cards, merchandise (the catalog is being expanded greatly thanks to partnerships with new retailers) and more.

Features and Benefits
The Aeroplan® Credit Card is full of benefits and additional features that complement and go beyond the Aeroplan program. Some have already been mentioned - the preferred pricing on Aeroplan reward flights is one such benefit.
First Checked Bag Free on Air Canada flights
Probably the most popular benefit that has been added to all Aeroplan co-brand cards in the U.S. and Canada is the first checked bag free benefit. It is provided for the cardholder and up to 8 companions on the same reservation and it waives the fee associated with basic and standard economy class fares. This saves the cardholder US$30 per bag on flights in the Americas. It will also save US$70 per bag if you buy the cheapest economy basic fares to Europe. (Pricing was current as of November 2, 2022).
Aeroplan 25K Elite Status
All new primary cardholders will automatically receive Aeroplan 25K status for the calendar year in which the card account is opened and for the following calendar year. After that if you spend $15,000 per year on the card you will maintain 25K status.
Elite Status Level Up
As the Primary Cardmember, you will have the ability to earn an Elite Status Level Up of one tier to 35K Status or higher for existing status holders with $50,000 in account spend during a calendar year
Global Entry or TSA PreCheck or NEXUS Fee Credit
With the Aeroplan® Credit Card you'll receive one statement credit with a value of up to $100 every four years after the first program (either Global Entry or TSA PreCheck® or NEXUS) application fee is charged to your card, by you or an authorized user
No Foreign Transaction fees
With the Aeroplan® Credit Card you won't be charged any extra fees when making purchases that are not in US dollars.
Chase Pay Yourself Back
As this is a U.S. based card and Air Canada doesn't have flights within the U.S. beyond what you can redeem for with United the card offers Chase Pay Yourself Back. This means cardmembers will be able to apply their Aeroplan points toward travel purchases on any airline, including hotel, car rental, and more at a rate of USD 1.25 cents per point up to 50,000 points per year (US$625 of value)
50% off promo rewards
Have the ability to spend a lot on your card? You'll be rewarded with 50% off priority rewards when you hit $100,000, $250,000, $500,000 and $750,000 on the card annually..
Unlimited Global+1
Hit the one million mark in spending on the card annually and you'll get the Unlimited Global+1 benefit. This provides a 100% points rebate for companions on all flight rewards booked for two people. This is available across all cabins and airline partners. Think of this way – redeem for one first class ticket on an Aeroplan partner airline you get the second for free (I'm assuming you do have to pay the taxes and fees though but the good news there is Aeroplan doesn't charge carrier surcharges anymore)
Insurance
The Air Canada Credit Card comes with a decent insurance package that includes the following:
Trip Cancellation Insurance
Trip Interruption Insurance
Trip Delay Reimbursement
Baggage Delay Insurance
Car Rental Theft and Damage Insurance
Purchase Protection Plan
Roadside Assistance